Soproni Museum - Museum Collection of Rábaköz
- Kapuvár
Museum tickets, service costs:
| | | |
| --- | --- | --- |
| Ticket for adults | 360 HUF | / capita |
| Ticket for students | 180 HUF | / capita |
| Ticket for pensioners | 180 HUF | / capita |
The baroque castle which was built at the place where the old fort of Kapuvár (Kapu-gate, vár-fort) once stood was the economical centre of the Esterházy estate. This large historical building can only remind us of its once important defensive function. The fort's, the castle's history is demonstrated trough the remains of poles and the stamped bricks.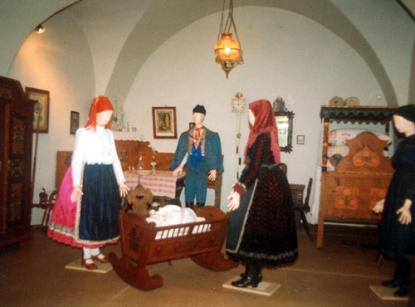 Kapuvár and surroundings are occupied since the pre-historic ages. Stone tools, ceramics, Celtic jewelleries, culture dishes and decorated belts are the demonstration of roman, migration of nations and middle age historical periods.
Traces of variety of trades can be found in craftsmanship items and documents.
The XIX century civilian and lesser nobility famility life is demonstrated through furniture's, paintings, and ceramic and glass ornaments. The variety of religious items such as prayer books, rosaries, holy-water holder, and bead decorated festive relics attest to monastery labour. The "Rábaközi" Museum's most valuable artisan items art the baroque wood and stone statues.
The kapuvarian room is decorated with peasant furniture from the late XIX and early XX century, the traditional cornerbench, linen closet, trunk, and the ceiling of a canopy bed were hand painted. The peasant baroque hands carved chairs were very popular. The collection most precious item is a table with drawers from the late middle ages. One of the prominent kitchen furniture is a hand painted drawered-shelved cabinet. Ceramics, wooden dishes, tools, decorated serving plates and dishes bring back the kitchen's original atmosphere.
The carving and Spanish wax decorated razor case and gift items hold the memories of its makers.
The men and women clothing's of the traditional Kapuvár from the XIX century were made by trained tailors and specialized seamstresses. The most expensive man suite was made out of blue broadcloth decorated with piping. The festive women dresses were made of velvet and silk worn with heavily decorated complementary pieces.
The history of these traditional clothings were heavily influenced by the near-by village, Hövej, where women make the new style rececsipke (rece-lace) .
Plaster and bronze statues, documents and mementos remind us of a Kapuvár born sculptor, Pál Pátzay. His medals, artistic writings, and pictures of his statues are the evidence of successful career.
The year around exhibits also features few archived clips of Kapuvár from 1910-1960. These clips must be interesting to visitors who want to learn about the city and to those to whom Kapuvár was once home.