Károly Viski Museum
- Kalocsa
Address:

6300, Kalocsa Szent István király út 25.

Phone number:

(78) 462-351

Opening hours:

01.11-14.03: closed

15.03-14.05 and 16.09-31.10: Tue-Sat 9-17

15.05-15.09: Wed-Sun 9-17
Museum tickets, service costs:
| | | |
| --- | --- | --- |
| Ticket for adults | 300 HUF | |
| Ticket for students | 150 HUF | |
| Ticket for pensioners | 150 HUF | |
| Guide | 600 HUF | |
| Photography | 800 HUF | |
| Video | 3000 HUF | |
Our exhibition shows the mineral collection created by the former Jesuit main grammar school in original furniture, labels and according to the principles of exhibition at the start of the twentieth century. The method of exhibition evokes the first mineralogical collection of the Hungarian National Museum that had been destroyed long time ago, and which have been preserved in the National Museums of Vienna and Prague with similar characteristics to the former Hugarian one.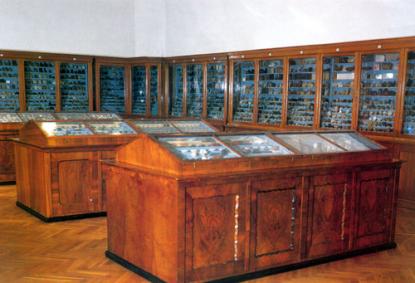 The Jesuits put a strong emphasis on the teaching of sciences. The mineral collection of 248 pieces were extended through donations and purchases. By 1885-1886 there were 1097 filed and 1807 unregistered minerals, and 350 pieces of stones in the collection, which had grown into a number of 4512 pieces by 1940.
The mineralogist teacher, Mike Tóth visited all mines and mountain gorges of Hungary and studied through all significant mineral collections of Europe. He wrote three books about his experiences. 1: Minerals of Hungary. 2: Life and minerals. 3: The mineral collection of the secondary grammar school of Kalocsa.
After the nationalization of 1948 the university of Sopron and Veszprém would have liked to ship the collection, but Gyula Ortutay, Minister of religion and public education transfered it to the ownership of the Kalocsan Museum. The collection was opened on 12 July 1981.
The poorest region - as far as minerals are concerned - of the Carpathian basin, through its rare and wonderful items, represents a very special museological and traditional value. Almost all regions of the world are represented in the connection.