Jász-Nagykun-Szolnok County Museums Authority - János Damjanich Museum
- Szolnok
Address:

5000, Szolnok Kossuth tér 4.

Phone number:

(56) 510-152

Opening hours:

18.01-11.12.: Tue-Sun 9-17
recommended age:
7 - 18 year
Museum pedagogy contact person
Equipment in the institute
Professionals:

kindergarten teacher,

museologist
Rooms:

activity room,

lecture room
Leisure equipment:

accessible restroom,

audio guide,

baggage room,

cloakroom,

gift shop,

medical office nearby,

playground,

portable chairs,

rest stop,

restaurant nearby,

seat cushions,

wheelchair
Traffic:

accessible building,

parking lot
Related exhibitions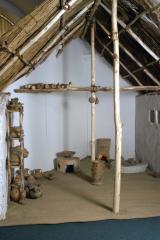 Through the archaeological relics of the county the exhibition demonstrates how the dwelling houses were changing during the centuries. The exhibition embraces the history of the county from the prehistoric age to the end of the Turkish era. It represents the changes made according to the lifestyles and dwelling-houses.

further exhibitions