Hungarian Geographical Museum
- Érd
Address:

2030, Érd Budai út 4.

Phone number:

(23) 363-036

Opening hours:

Temporarily closed.
recommended age:
10 - 14 year
Museum pedagogy contact person
Mácsai Anetta
(23) 363-036
Equipment in the institute
Professionals:

museologist
Rooms:

lecture room
Leisure equipment:

Braille signs,

cloakroom,

medical office nearby,

portable chairs,

restaurant nearby,

seat cushions
Traffic:

museum map,

parking lot
Related exhibitions
1970.01.01. 01:00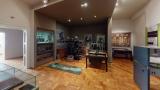 The exhibition opened in 1988 honors the Hungarian scientists who took part in the researches in connection with Hungary beside the scientific discoveries of our country. The material of the show does not only come from the present area of Hungary since our past is connected to the whole Carpathian Basin.

further exhibitions