Hungarian Geographical Museum
- Érd
Address:

2030, Érd Budai út 4.

Phone number:

(23) 363-036

Opening hours:

Temporarily closed.
recommended age:
10 - 14 year
Museum pedagogy contact person
Mácsai Anetta
(23) 363-036
Equipment in the institute
Professionals:

museologist
Rooms:

lecture room
Leisure equipment:

Braille signs,

cloakroom,

medical office nearby,

portable chairs,

restaurant nearby,

seat cushions
Traffic:

museum map,

parking lot
Related exhibitions
1970.01.01. 01:00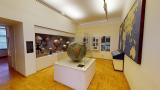 Our exhibition opened in 1983. It can be separated to six different units. The history of the Hungarian Geographic Association is displayed in one of them. Among the travelers of the 13-14th century the journey of Frater Julianus in 1235, Móric Benyovszky Asian, American, and journeys in Madagascar are presented. The memoires of János Sajnovics and Miksa Hell travel to Lapland in 1768-69 and the deeds of the Hungarian missionaries in South America are represented.

further exhibitions